Three New Members:
Norske Skog and UPM-Kymmene Join INGEDE With All Their Deinking Mills
In addition to their paper mills that are already members of INGEDE, UPM-Kymmene and Norske Skog have decided to join the International Association of the Deinking Industry with all their relevant mills. This underlines the importance of INGEDE as a representative of manufacturers of graphic paper and hygiene paper made from recovered paper. With a deinking capacity of more than 7 million tons per year, INGEDE now represents deinking paper mills in almost every European country. The new INGEDE members are Norske Skog Skogn in Norway, Norske Skog Steti in the Czech Republic and UPM-Kymmene's Shotton Paper, the largest newsprint plant in the United Kingdom.

Norske Skog Skogn is the largest producer of newsprint in Norway. It was founded in 1962, the first newsprint machine started its production in 1966. Three paper machines with a joint production capacity of 560,000 tons per year make Norske Skog Skogn one of the largest newsprint mills in Europe. With its own port facilities, it operates a twice-a-week regular line to UK and Continental Europe. The mill produces newsprint, using up to 40 per cent deinked pulp.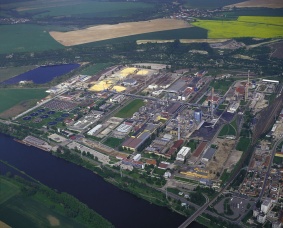 Norske Skog Steti isis the first INGEDE member in the eastern part of Europe. Norske Skog acquired the Steti PM4 in November 1997. The PM4, the raw materials department and the wood yard are situated inside the Frantschach Pulp and Paper AS plant in Steti north of Prague. Norske Skog Steti has a more than 50 per cent share of the Czech newsprint market with a production of 120,000 tonnes per year, using 40 per cent deinked pulp.
UPM-Kymmene's Shotton Paper was established in 1985 in Shotton in Northern Wales with a capacity of 470,000 tons of newsprint. The Finnish group plans to invest 127 million Euro in a new recycled fibre pulp facility. The UK Government's Waste & Resources Action Program (WRAP) has already awarded a financial support to the project. This will convert Shotton Paper, the UK's largest newsprint mill, to 100 per cent recycled fibre.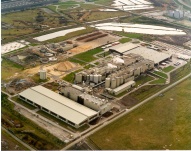 An additional 320,000 tons of recovered newspapers and magazines per year will have to be collected from nearly 4 million additional households – primarily from areas where there are currently low levels of paper recovery from the waste stream. This supports the UK Government's ambitions to fulfil recovery directives from the European Union. The new facility is scheduled to begin full production by April 2004, then the Shotton mill's recovered fibre consumption increases to 620,000 tons per year.
INGEDE is an association of leading European paper manufacturers founded in 1989. INGEDE aims at promoting utilisation of recovered graphic paper (newsprint, magazines and office paper) and improving the conditions for an extended use of recovered paper for the production of graphic and hygiene papers.
21 March 2003
---
Attention Editors:
Here you can find higher resolution pictures from the new member mills for download. Either click the right button of your mouse on one of the pictures above, then select "Save as ..." oder click at one of the files listed below.
These pictures are available free of charge, to be used only in the context of this press release. Please quote INGEDE and – if mentioned – the photographer as source of the picture and send us a copy of your publication.
Norske Skog Skogn (high resolution not available yet) - picture by Norske Skog
Norske Skog Steti (403 kB) - picture by Norske Skog
UPM-Kymmene Shotton Paper plc (182 kB) - picture by Shotton Paper plc
In case of questions we will be happy to help you.