Four New Members:
Holmen Papelera Pensinsular, Leipa Schwedt,
Rhein Papier Hürth and SCA Laakirchen Join INGEDE
---
INGEDE Press Release 1/2004
In 2004, INGEDE was able to welcome four new members yet: The Spanish paper mill of Holmen, Papelera Peninsular, the Schwedt mill of Leipa GmbH in Germany, the new paper mill Rhein Paper in Hürth, Germany, and the Austrian Mill SCA Laakirchen. This underlines the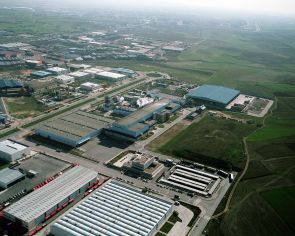 importance of INGEDE as a representative of manufacturers of graphic paper and hygiene paper made from recovered paper. With a deinking capacity of more than 9 million tons per year, INGEDE represents deinking paper mills in almost every European country.
Holmen in Sweden has been a member of INGEDE for a long time. Now Papelera Peninsular, situated south of the Spanish capital Madrid, joined the International Association of the Deinking Industry. This new mill came on line in May 1998, replacing a smaller mill in the center of Madrid. Currently one paper machine produces 170,000 tons of newsprint and magazine paper. Another newsprint machine is scheduled to start operation in 2006, increasing the output by another 300,000 tons. All production is based on recovered paper which is collected primarily in Spain but also in Portugal.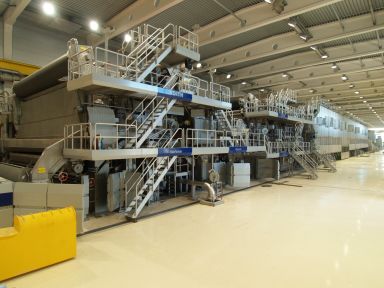 The origins of the Schwedt mill of Georg Leipa Papier GmbH date back to 1959 – that year the most modern and efficient paper plant of the former East Germany was founded. In 1963 the production of newsprint began, 1992 Georg Leinfelder GmbH from Schrobenhausen took over the mill. In 1995 the construction of the deinking plant began. Leipa's PM 1 produces 160,000 tons coated magazine paper per year from 100 per cent recovered paper. By the end of 2004 the new PM 4 will start producing coated magazine paper with a main grammage area of 51–65 grams per square meter and an annual capacity of 300,000 tons.
With a speed record, Rhein Paper in Hürth close to Cologne began operating: Four weeks ahead schedule the paper machine started to produce newsprint at 1,560 meters per minute. Another record followed – with the top speed of 1,912 meters per minute in March 2003. Rhein Paper is owned by the Finnish paper company Myllykoski. The operation is managed by MD Lang Paper. Running one of the most advanced paper machines world wide, 280,000 tons of newsprint of 45 grams per square meter can be produced per year.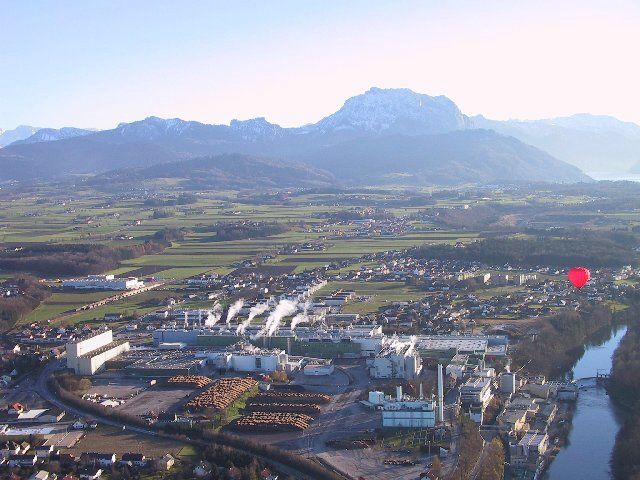 SCA Laakirchen was founded as "Trauntaler Holzstoff-Fabrik" (Traun Valley Mechanical Pulp Factory) in 1867, the first paper machine started in 1874. The Swedish SCA Group acquired the mill in 1988, the first deinking plant began operating in 1995. Two paper machines, PM 10 and PM 11, produce 495,000 tons high-quality SC rotogravure and offset paper per year, utilising about 150,000 tons of recovered paper.
---
INGEDE is an association of leading European paper manufacturers founded in 1989. INGEDE aims at promoting utilisation of recovered graphic paper (newsprint, magazines and office paper) and improving the conditions for an extended use of recovered paper for the production of graphic and hygiene papers.
6 July 2004
---

This press release for download
Attention Editors:
More about Rhein Paper Hürth at the pages of Rhein Paper (D/E) and Pulp and Paper Technology (E), also at Voith Paper.
More about Holmen Papelera Peninsular at the Holmen (E) website.
More about Leipa in Schwedt at the pages of Leipa (D/E)
More about SCA Laakirchen at www.sca.at.
The pictures above are available on request free of charge, to be used only in the context of this press release. Please quote INGEDE and — if mentioned — the photographer as source of the picture and send us a copy of your publication.
---
If you have any questions, do not hesitate to contact us!